Top climate adviser says UN warnings will force the government to act in ways that will be controversial and politically fraught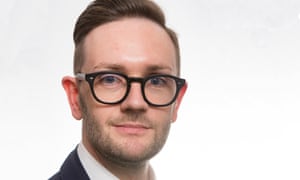 The UK's obligations in response to this week's warnings from the UN over global warming will be controversial and politically fraught, taking the country into "uncharted territory" and testing the political consensus on climate change, the its top climate adviser has warned.
The government will have to regulate industry and intervene in the market in ways that will prove controversial in parliament, predicted Chris Stark, chief executive of the Committee on Climate Change (CCC). He is charged with advising ministers on how swift and how deep cuts in emissions should be and how they can be achieved, and his committee will start work on the UN Intergovernmental Panel on Climate Change (IPCC) advice shortly.
"We will be challenged as never before," he said. "We will be scrutinised as never before. We must stick up to that scrutiny. We will be forcing politicians to make hard decisions. We will be testing the political consensus [on climate change]."
He said reducing emissions by the amounts needed would "require answers that the market unfettered will not deliver".
"It will be fascinating to see how parliament reacts to the long-term target," Stark said, in an interview that took place before the IPCC's findings were formally published but after accurate leaks had indicated its findings. "It will be a real test of how parliament has changed in the last 10 years. The political environment will be more difficult. Parliament is more divided."
CLIMATE CHANGE FACT: The ocean is 26 percent more acidic than before the Industrial Revolution. The pH of ocean surface water has decreased by 0.1, which makes them 26 percent more acidic now than at the beginning of the Industrial Revolution. The waters are more acidic now that at any other point in the last 300,000 years.
Ministers are pledged to seek advice from the CCC, set up under the 2008 Climate Change Act to be the statutory adviser on setting and meeting greenhouse gas targets, on how to respond to the IPCC report, published on Monday. Claire Perry, business minister, announced in April that she would ask the committee to review the UK's current climate target – of an 80% cut in emissions from 1990 levels by 2050 – soon after the IPCC's findings.
Any analysis is likely to centre on the UK becoming "net zero" in emissions terms by mid-century. That would involve reducing emissions as far as possible, for instance by ramping up clean energy and switching to electric vehicles, while increasing the UK's carbon "sinks", such as forests and soils. It could also include the option of offsetting any remaining emissions by investing in emissions cuts in other countries.
The CCC was not warned in advance of Perry's announcement, though Stark said he was "delighted" by it, and has still not been formally asked to undertake the new analysis. Until the government makes an official request, which may come next week, the terms of an investigation and report cannot be set out.
"Our work has to be above reproach, the gold standard, [but] I think what we say will be controversial," he said. "We will be looking at issues and challenges to this country and this economy that will take us into uncharted territory."
Hurricanes and other storms are likely to become stronger. Floods and droughts will become more common. Large parts of the U.S., for example, face a higher risk of decades-long "megadroughts" by 2100.
Stark said the independence of the CCC, which sets out a "straitjacket" of five-year carbon budgets that require policy targets years beyond the current parliament, was at the core of its mission. If a government wishes to challenge the targets, it must seek judicial review, a step no administration has taken in 10 years of the act.
"We are politically engaged, and politically aware, but it is very important that we do an independent job," he said. "We have a role and we have used that role extremely seriously. We have analytical rigour – we are a technical body – and I do not think that we have been politicised. We are not an NGO, we are not a campaigning group."
But Stark warned of risks to the prevailing cross-party political consensus on climate change in the UK that could make setting policy on the issue harder than it has been on the past. "There was a degree of consensus on climate change in 2008 [when the Climate Change Act was passed]," he said. "The consensus is still there but the excitement that was there 10 years ago is not there now."
Stark does not think such an act – unique when it was passed, in allowing for long-term obligations on emissions cuts that would be binding on future parliaments – would be passed in the same form today. "I'm hopeful this government continues to see climate change as an issue [on which to] demonstrate leadership," he said. "The Climate Change Act was a genuinely brilliant piece of legislation and has stood the test of time."
The average surface temperature of the earth is rising. That doesn't mean it's rising everywhere, and it doesn't mean the temperature rise is responsible for every significant weather event.
The biggest threats to action on climate were political upheaval and government attention, he added. "There is a finite amount of political attention, and the government is understandably concerned with the impacts of Brexit," he said. "The biggest threat is a change in politics and we must always be alive to the fact that politics can shift. I would worry about a change in the parliamentary atmosphere. This is an unprecedented political time."